Two Bad Mice have been working with Anita Jeram since 1994. We discovered her illustrations of hares for the newly published book "Guess How Much I Love You" in an Islington bookshop. The book had just been published, a few weeks later the story with its pictures by Anita of the love between the Little nut brown hare and his father had hit the top of the best sellers lists. We, like so many other people, were immediately struck by the movement and personality in her artwork and are not surprised that Guess has since become a classic of children's book loved by parents and their children all over the world.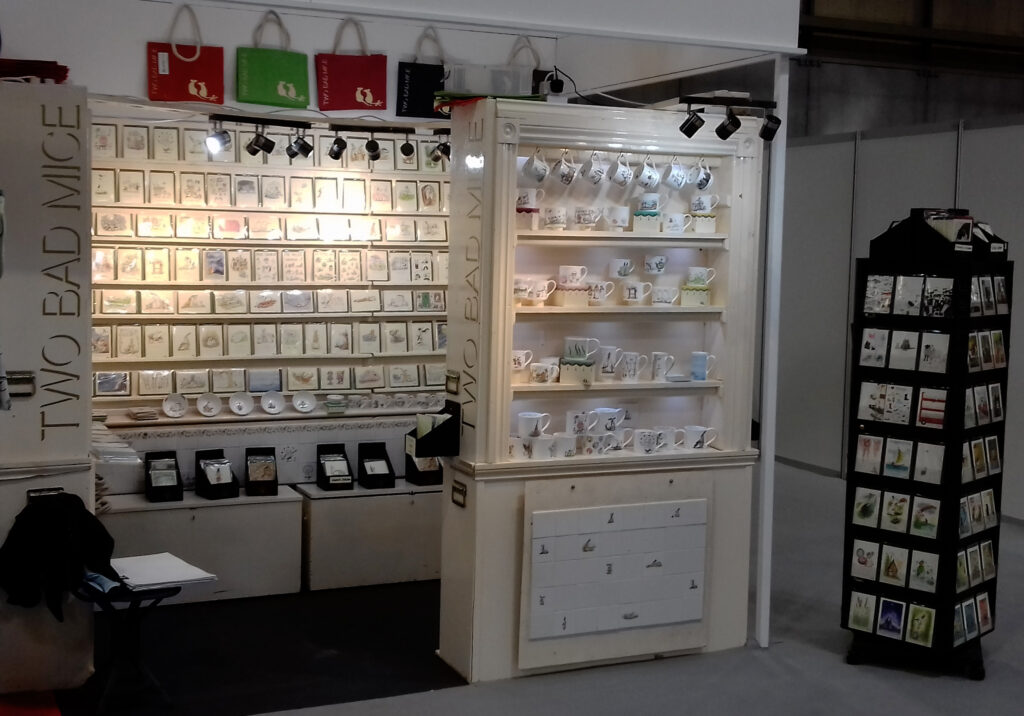 When the work Anita made for us arrived we quickly understood that her success with "Guess" was no fluke. Anita is a prolific watercolourist with an extraordinary gift for making the characters live on the page. When you look closely you will discover that every animal in her pictures are busy doing there own thing and each has its own individuality. Anita has the ability to describe their feelings with precision, expressing a wide range of mixed emotions from shyness to boldness, happiness to sadness, confusion, playfulness and alertness. Above all, as we have already discovered in her hare books, she has a unique ability to draw love.
Love is perhaps the most popular subject for both children's books and greeting cards. But Anita has the another gift which was not quite so obvious in her children's book illustrations; it is her wry sense of humour. Her irony is kind and beautifully expressed in an early image she made for us of two rabbits flat on their backs in a meadow looking blankly up at the sky. Decades later we are still rolling about with laughter at the caption she added to this delightful watercolour; cloud watching!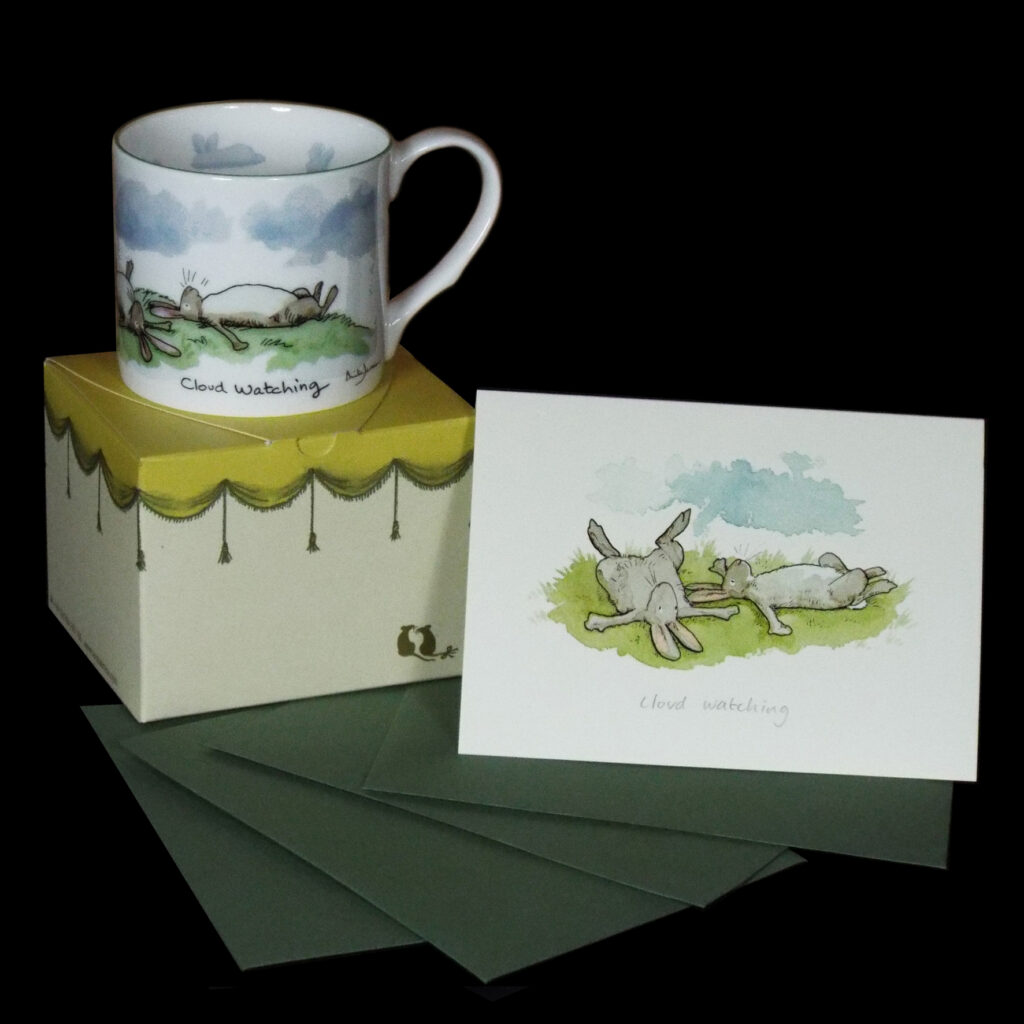 In the decades we have worked with Anita we have always steered clear of making cards of Anita's Hares. This is because we do not want to make products that might be confused with the character good rights belonging to Walker Books. Fortunately Anita is just as talented at making images of Mice, Dogs, Cats, Rabbits and a host of other animals. Anita's rabbits are particularly soft, fluffy and loving as can be seen in this selection of cards and gifts for rabbit lovers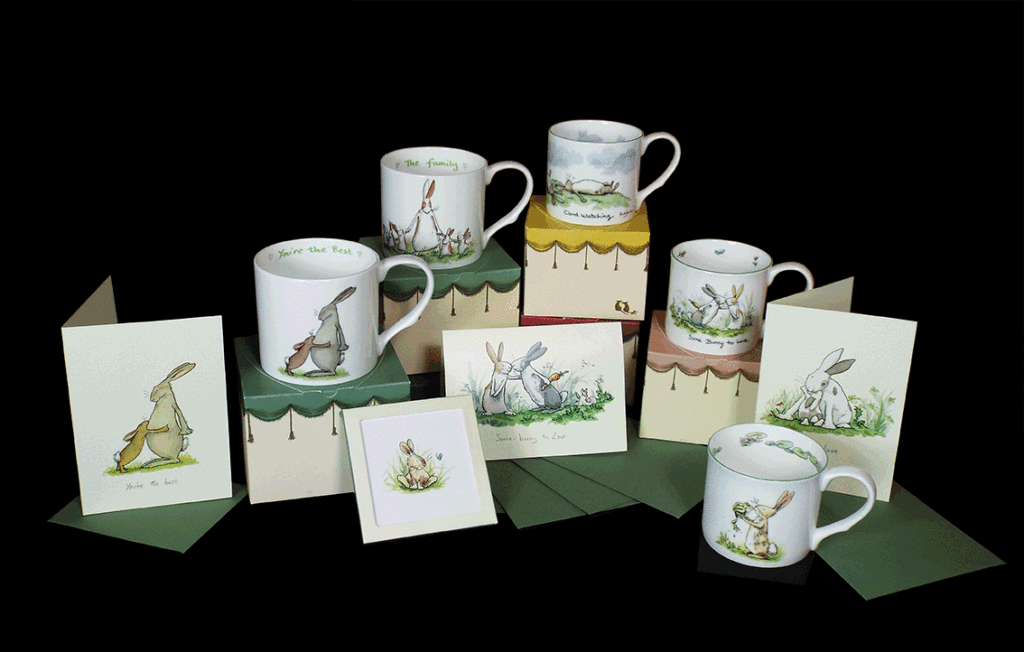 We think Anita is particularly good at getting into the heads of dogs. To show you what we mean I have quickly put together a assortment of dog images from our library. Look at the face of that dog with a lead in his mouth asking to go for a walk, and the wet floppy tongue of the ever friendly and trusting spaniel.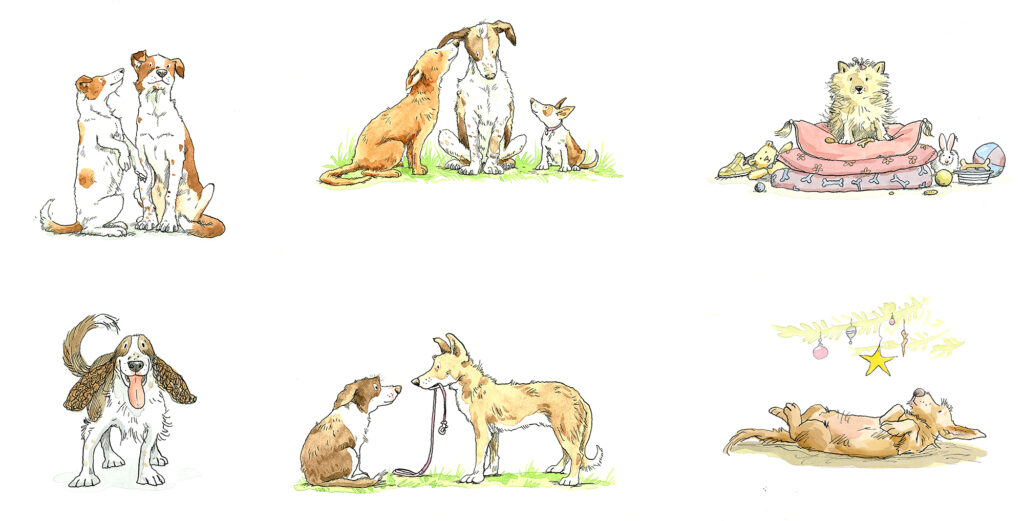 Cards and Gifts for men are always a problem for gift companies. Anita's dogs are really useful for solving this problem, as in the large mug "Laid Back Kinda Guy"
Anita likes to pick a theme and follow it. Anything can happen when Anita gets going on a theme, for instance last year she had a phase of making images of animals painting.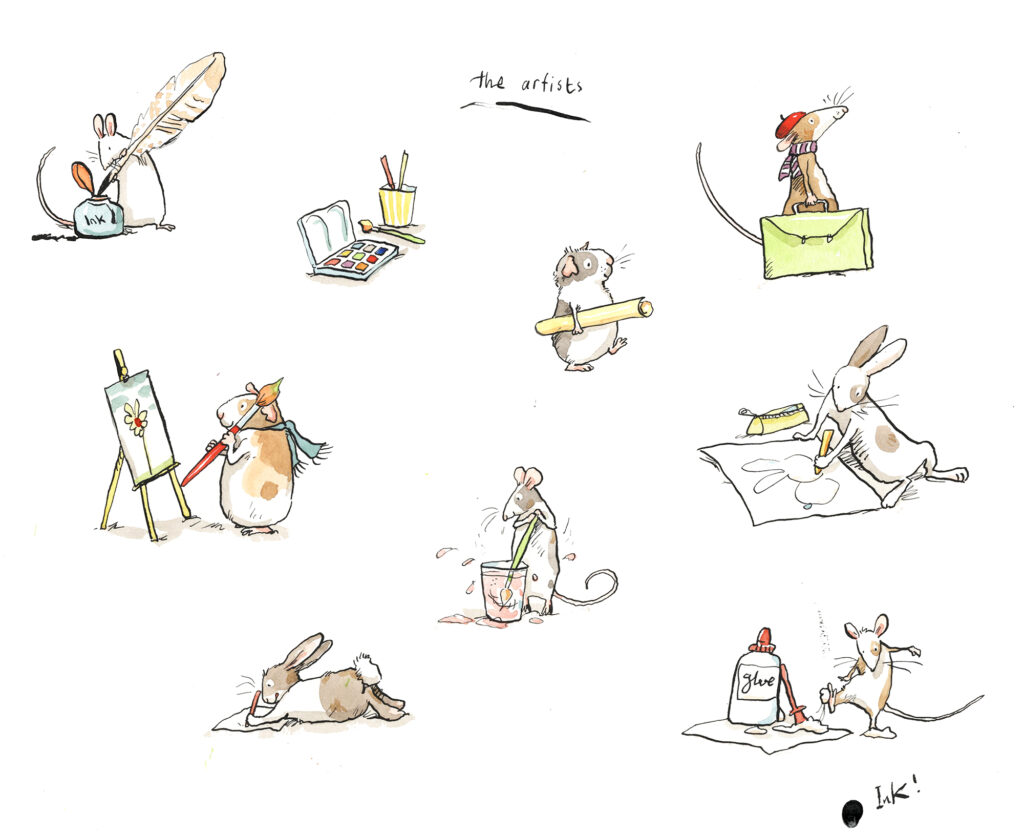 We developed this theme into a range Anita later called Art club.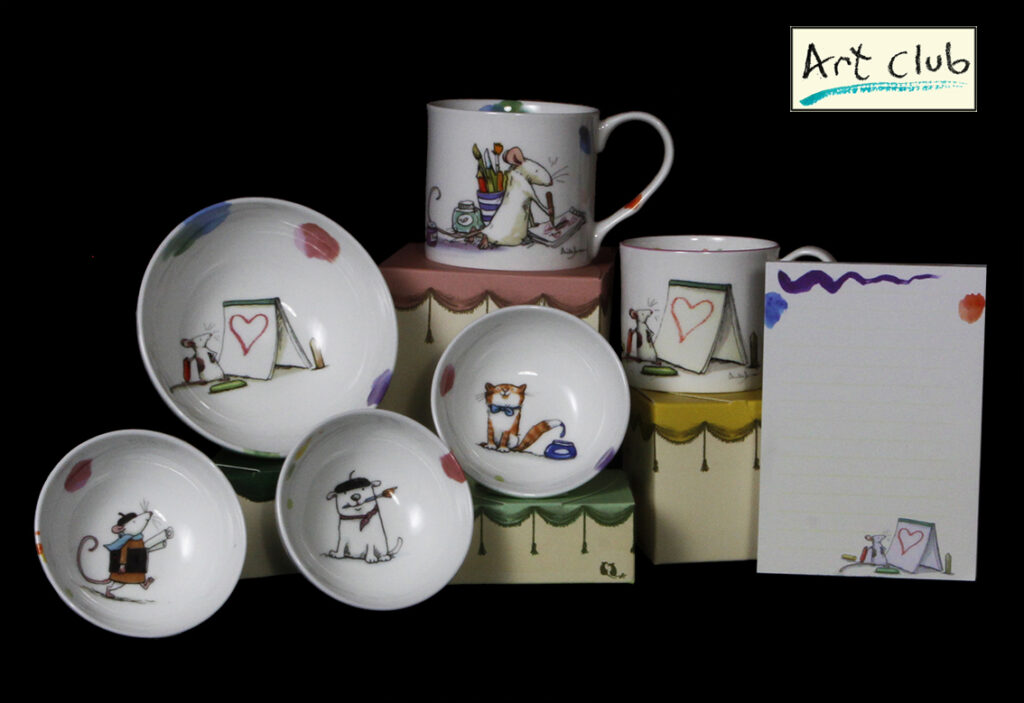 As you can imagine working with Anita is a thrilling experience
There are always little projects going on between us. This year we produced Christmas mugs.

Two Bad Mice is a very small company, we are just three people in a an office , and we are privileged to have this close relationship with one of Britain's leading Children's book illustrators. artists. Over the years we have sold tens of millions of cards and ceramics with Anita's artwork on them. Other companies have noticed the unique work Anita makes for us, and Anita has licensed a number of other companies to use her images on their products. We have set up a page for you to find these other companies
Some other links you might be interested in: